HAVE YOU HEARD!
This just in.....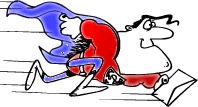 2017 State meet review:





The Breeze athletes performed on a high level at this year's USATF NE State Junior Olympic Championship meet. The coaches were excited about the effort, competitiveness and fun the athletes demonstrated during the competition.

The finalist and award winners are as follows:

8&UNDER:

Brice Owens 67'-7" STATE CHAMPION


9/10:

Brooklyn Owens 6th place Long Jump,10'-8.5"

4x100 meter relay: 3rd place, Emersyn Gaines, Brooklyn Owens, Braelyn Elting, Riley Homan 1:09.42

Keynan Cotton 2nd place, 100m 13.76 sec CLUB RECORD:
200m 5th place, 29.98

11/12:

Bithiah Pullman 4th place, 100m 14.30 (Prelim 14.09):<
200m 8th place, 30.07sec:
400m 3rd place 68.98sec

Thomas Clark 4th place, 3000m 11:56.89

Caleb Jacobmeir High JumpSTATE CHAMPION 4'-3.25"


13/14:

Lauren Clark 5th place 1500m, 5:55.82:
3000m 6th place, 12:58.91

Daniel Swartz 2nd place 400m 55.61sec

William Kyle III 2nd place 800m 2:18.90:
High Jump 3rd place, 5'-3":
400m 7th place, 59.90sec

Francisco Becarra 4th place 1500m, 5:13.22:
3000m 4th place, 11:00.32:
800m 7th place, 2:28.47


15/16:
Natalie Wiles 3rd place 800m, 2:43.03:
1500m 4th place, 5:39.13

Olivia Sattlefield 2nd place 100Hurdles, 15.80sec

Chris Ramsey 2nd place 100m, 11.28sec
Stephen George 5th place 1500m, 4:56.48

Alex Boerner 5th place 800m, 2:25.28:
Javelin 6th place, 97'-0"



Tyla Bishop 2nd place 100m, 12.99sec:
200m 4th place, 27sec:
High Jump 3rd place, 4'-11"

Scarlett Hill 2nd place 200m, 26.10:
400m 2nd place, 1:01.15sec

Grace Bryant Triple JumpSTATE CHAMPION:
Long Jump 3rd place, 16'-1"

Alexis Riley 4th place Triple Jump, 33'-7":
200m 5th place, 27.04

4x100m RelaySTATE CHAMPIONS Grace Bryant, Scarlett Hill, Alexis (Lexi) Riley, Tyla Bishop 50.12sec

Caleon HarkeySTATE CHAMPION 200m, 22.53sec

Michael KnowlesSTATE CHAMPION 400m, 51.89sec:
800mSTATE CHAMPION 2:03.63

Kurtis Cotton 3rd place 400m, 52.92

James Radziunas 3rd place 110Hurdles, 15.39sec

Ethan BoernerSTATE CHAMPION 400Hurdles, 59.13sec:
Long Jump 2nd place, 19'-9.5"

4x400 RelaySTATE CHAMPIONS, Caleon Harkey, Kurtis Cotton, Ethan Boerner, Michael Knowles, 3:30.24 sec

KEEP UP THE GREAT WORK! Thank You to all the Athletes, Coaches & Parents. WE ARE FAMILY!



CONGRATULATIONS! to all the BREEZE athletes who medaled in past Junior Olympic National Championships.

K.J. Cotton,Cody Rush, Garrett Teel, Jasmine Mosely, Morghan Mace, Taryn Derickson, Lukas Hulett,Thomas Filer, Sarah Lyons, Lonell Cooper, Heidi Cunningham, Maranda Saltzman, Kristen Bennett, Danielle Fisher, Tinesha Lequillow, Robert Rands, Dennis and Devin Barfield, Jett Baker, Ben Holkeboer, Avrie Welton, Brandon Wallace, Aaron Carpenter, Cody Ingold, Lonell Cooper, Wayne Reynolds, Cedric Lee, Marcel Ryan, Matthew MeDill, Hunter Saltzman, William Kyle III, Kenzo Cotton, Alonzo Mercier.